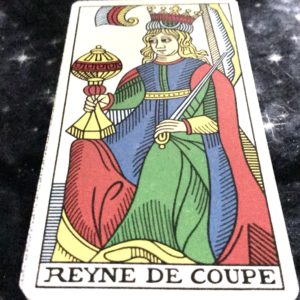 The Queen of Cups is the ultimate empath. She is able to feel what others are feeling because of the rich landscape of her own inner emotional life. Yet she remains unflappable on the surface, and entirely in control, guarding herself from disclosing feelings that she deems unproductive or untoward. She is genuine in all things, but she doesn't wear her heart on her sleeve for others to see.
In French Tarot tradition, she is associated with Judith, the Jewish heroine who gained the trust of the enemy general and decapitated him in his sleep, delivering her people from the Assyrians. We do get the sense that the character depicted on the Marseille version of the card is not telling all that she knows. 🙂
This card is the perfect bookend to a week which began with the Chariot last Saturday, progressed through four pip cards from the suit of Wands, leading to the Star's arrival yesterday.
In some early notes I had for this card, I wrote that in her dreams, the Queen of Cups is the Star, naked and free.
Sasha Graham has this one as "caring for all things in the world and understanding that we are all connected."
Let's acknowledge, nurture and celebrate the light within our hearts. May we seek the truth, may we have confidence in our insights, and may we approach others with empathy and grace.