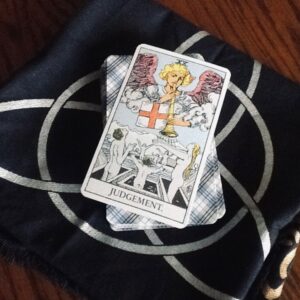 On Monday of this week, as I sometimes do, I posted my daily card draw on Facebook. A high school classmate that I haven't seen or spoken with in forty-nine years commented on the post to warn me that Christians shouldn't practice such things, and she gave me a couple of scriptures to read.
Initially it felt a little tense, but I know that her intention was to look after me, and after a few exchanges back and forth, we dropped the discussion and went on to talk about our lives since high school. Not at all unpleasant.
Even though I've written before about Christianity and the Tarot, I thought it might be useful to add a few more notes. I hope that if you have comments or questions, that you'll get in touch with me by email or post a comment below.
If this is not for you, scroll on by, or click away. No harm done. No offense taken.
First of all, let me reiterate that I'm not trying to push my beliefs or approach onto anyone else. There are a lot of Tarot readers who want nothing to do with Christianity (or with Christians, for that matter – sometimes we can be a little off-putting). This post is not about forcing people to accept any of my own beliefs, practices, notions or dispositions.
Also, I'm not interested in arguing or trying to convince any Christians who have already made up their minds about the matter. Feel free to scroll on by. And as I have said before, many times, if your conscience tells you that you should stay away from the cards, or if they cause you any sort of worry or fear, then by all means stay away from them. Life is short.
If, however, you are genuinely curious about how a person who claims to be a Christian (and a Catholic, at that) can reconcile Tarot practice with the scriptures, then please read on.
That Pesky Book of Leviticus
Here are the Bible verses that my friend shared with me, and then a few of my own thoughts follow.
"As for the person who turns to mediums and to spiritists, to play the prostitute with them, I will also set My face against that person and will cut him off from among his people." – Leviticus 20:6
"Now a man or a woman who is a medium or a spiritist must be put to death. They shall be stoned with stones; they have brought their own deaths upon themselves." – Leviticus 20:27
First of all, what I do with the Tarot cards has nothing to do with mediumship or communicating with spirits, at least in the sense of the terms used in these verses. The only spirits I'm trying to communicate with are my own and the person for whom I might be reading.
The other consideration here is that I believe it best to use some discernment when interpreting scripture. Who was the original audience for the passage? When was it written? What was the context?
In the case of Leviticus, the bulk of it has to do with how ritual practices ought to be conducted, and how the Israelites ought to comport themselves in order to participate in those rituals. It was deemed important that "impurities" – whether of body, mind or spirit – not be imposed on the proceedings.
It was also considered to be of great import that the Israelites not "mingle" with the natives of the land they were to claim, and that they not adopt any native ritual practices or religious beliefs.
As a consequence, if you take even a casual look at the Book of Leviticus, you will find all sorts of strange prohibitions there. You'll find dietary restrictions, directions on how to cut (or not cut) one's hair, prohibitions against wearing clothing of more than one type of fiber woven together, and much more of the like. So if we're quoting Leviticus as a reason to avoid certain behaviors, but we still eat shrimp, wear blended shirts, eat animal fats or rare steaks, glean all the way to the ends of our garden rows or harvest grapes from the ground, then we're doing it wrong. Ever accidentally touched a mouse carcass while emptying a trap? Uh, oh…you have defiled yourself before the Lord.
Okay, pardon me for having a little too much fun with that mouse bit. I truly do understand that there were reasons that some of these rules that we might consider to be silly in our times were important to the religious and cultural integrity (and in some cases the physical survival) of the people to whom they were addressed. But this is precisely my point. Let's look at the context before we go quoting scripture.
Just how literal should we take things?
If the verses above condemn folks who practice Tarot, and we're hanging our hat on such verses to prohibit the practice, then it seems to me that we ought to also follow this out to it's logical conclusion and impose the penalties prescribed. I don't know what it means to have someone's face set against me, but I do know what stoning to death is. If anybody would like to carry out that execution, I live in Kankakee, Illinois. I'm pretty easy to find. Please email me to schedule a time that is convenient to both of us, and please bring your own rocks.
"Oh," but you say, "don't be facetious. In this day and age no one is going to stone you to death. That part of the passage was meant for the Israelites of that time, thousands of years ago. Obviously, God doesn't expect us to do that sort of thing today."
But, wait. Don't you take the Bible literally?
You see my point. Context makes a difference.
Okay, but aren't there other reasons to think the cards are not Christian? It's not just those two verses, right?
Yes there are other scripture passages that people like to quote. And there are catechisms, and doctrines and proclamations, and warnings from pulpits. I've written before about the Catholic Church's teachings about using the cards, and how on first glance it seems like a fairly straightforward condemnation of the practice. When you dig deeper into the logic behind the teaching, though, it gets a little more nuanced. You can go back and read that original essay if you're curious about my reasoning.
I do think it's good to remember that there was a time, just a few hundred years ago, when the only playing cards that were not prohibited by the Church were Tarot cards. The old Marseilles decks which are the model for most of our modern decks are chock full of Judeo-Christian imagery, and were thought to be useful in helping to remind people of their moral obligations as Christians. Check out the "Judgement" card above from the Rider deck, complete with Gabriel blowing his horn and the dead rising again to meet their maker.
Let Each Keep to Their Own
I'm sure that there are ways of using Tarot cards that are not in keeping with the spirit of Christian discipleship, and there are definitely some Christian denominations that prohibit use of the cards, directly and unambiguously. Some also prohibit the use of standard playing cards. Dice games, Quija boards, séances, wearing makeup, short pants, eating meat on Fridays, drinking a cold beer after mowing the lawn, listening to that damnable Bop Music – depending on whose advice you take any one of these activities can get you sent straight to hell in a bucket.
For me, it's always a question of why something might be considered evil or dangerous to one's spiritual health. It's certainly a good practice to be thoughtful and deliberate about what we're doing. You're welcome to a simple list of dos and don'ts if that works better for you. Just please don't impose your list on someone else.