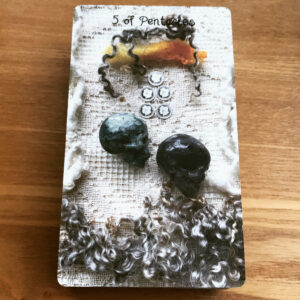 The Five of Pentacles is the card of hard luck. It always serves as a reminder to me of the human suffering in the world, and of my obligation to help relieve that suffering.
What I have missed in this card until it turned up this morning, is the relationship between the down and out couple depicted. In the Crystal Skull LWB, it's described as the part of traditional marriage vows which mention "in sickness and in health, for better or for worse." Despite their current troubles, they trudge on together.
May each of us be so lucky as to have a companion who sees us through times thick and thin.