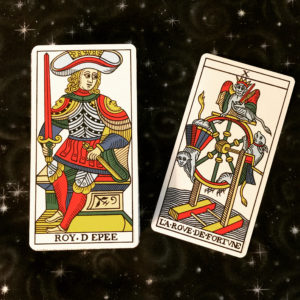 The King of Swords represents mastery in the realms of reason and the mind. In the Marseilles tradition, the card was said to be a portrayal of King David.
This card has always brought to mind, for me, these words from the Battle Hymn of the Republic.
He hath loosed the fateful lightning
Of His terrible swift sword
His truth is marching on
In Waite's deck, Pixie's depiction is reminiscent of both the Justice and Emperor cards. This King is one of her few Tarot characters who is staring directly at us, signifying directness and perhaps confrontation. His sword tilts to the right slightly, as if poised for action.
In the Marseille deck, this is not the case. Since he is gazing to his own left, I decided to pull another card this morning to see what he is looking at. The Wheel of Fortune turned up.
Ben-Dov wrote that this King feels "equipped to deal with uncertainty." That notion is perfectly represented in this card combination. The King has a dagger as his scepter in addition to the sword poised at the ready, and of course the Wheel is all about the ups and downs of life.
He also bears the spaulders with faces on his shoulders. No wonder he is well prepared to deal with uncertainty. He has eyes in every direction to provide plenty of "heads up."
Here are some of my other notes about the King of Swords.
Tactics, sharp intellect and rationality. Cut to the chase. Get to the point. You know what to do, so do it.

Keywords: Reason – Logic – Order – Judgment – Truth

He represents a stalwart commitment to truth, stemming from an analytical mind. Yet there is a certitude about him that puts me slightly ill at ease.
I think for me, at this time, he is a reminder to hold to the truth, and to approach things based on data and thoughtful reasoning. Be prepared, but be sure before bringing down that sword.