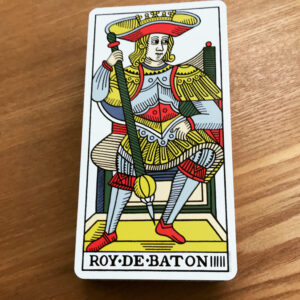 The King of Wands is the perfect culmination to the stretch of cards which have turned up this past week, which have been about harnessing desires and aiming them in a positive direction.
Here's how Yoav Ben-Dov describes this King.
A mature attitude to urges and desires. Controlled creativity. Prodding oneself to make a move forward. Investing present assets in future projects.
Inversely,"Plans to move forward are frustrated by self-defeating acts. Hesitation, conflicts, tendency to make things too heavy and complex."
This King may seem flamboyant or flashy, but this is not a contrivance, or born out of a desire to be the center of attention. His charisma comes from his ability to channel pure spirit.
"Let your light so shine before men, that they may see your good works, and glorify your Father which is in heaven." – Matthew 5:16