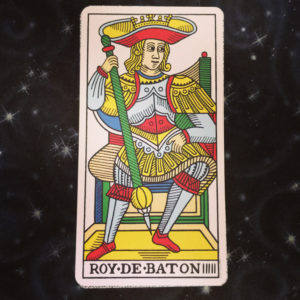 The King of Wands is Mr. Charisma. This is the card of action, charm, and spirit.
In the Marseille deck, he is dancing a little jig. His wand looks like a pen, He has a slight grin. He takes delight in performance, and perhaps flamboyance.
This is a king who is certain about the path, and about his own leadership capabilities. No organizational charts nor policy guidelines are needed here. Live with intent. Focus on the vision, and people will follow.