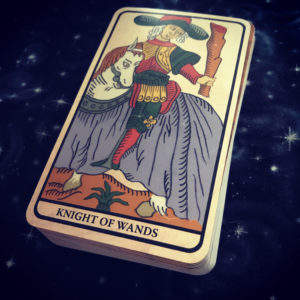 Knights are the cards of action, and this Knight, in particular, urges us forward.
His horse seems to still be moving forward, as they both turn to see who may be following. It seems to me that the Knight is ready to shout "This is the way! Follow me! Onward!"
He is fearless and certain.
At the moment so many of us around the world are facing each day with trepidation. We find ourselves having to pause and consider how to perform even the most routine and simple of daily activities, which used to be automatic. Did I remember to wash my hands after bringing in the mail? Should I venture out for groceries or can I make do with what is on hand? Is it alright to touch this door knob?
Prudence is clearly the order of the day, and it would be foolish to take unnecessary risks. But there is also danger in focusing so much attention on our limitations and restrictions at the moment, that we forget to actually live. Not only do we risk missing out on the joys and pleasures of the current moment, but anticipating the worst has an uncanny way of actually ushering it in.
As we remain vigilant and take reasonable precautions during the pandemic, let's also focus our efforts on living with what vibrance and vitality that we can, and on sharing life and light with others who are in need.
This is the way. Onward!