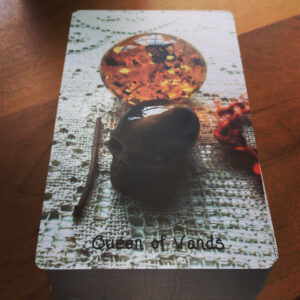 The Queen of Wands turned up two days ago as well. I'm not sure what she's trying to tell me.
When this happens, a card appears that I'm having difficulty relating to in my own life and circumstances, I ask myself how the character portrayed in the card would behave if they were living my life. Is that behavior something that I connect with and would like to try to emulate? Or is it serving as a warning that I am already acting in a way that's not in alignment with my best self?
When this Queen turned up Monday, her intolerance for negativity in others was something I had been feeling myself, so I did my best to pay attention to that, and to give people a break.
Today, I just can't put my finger on her message.
So I'm scanning the environment around me to see if I can spot a "Queen of Wands" type person that I'm supposed to attend, but she hasn't shown up yet.
I'll keep my eyes open. 🙂