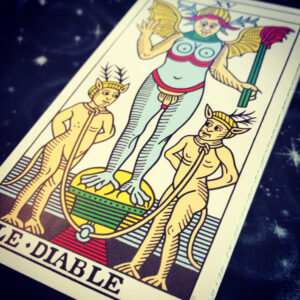 The Devil card, for me, has always represented bondage and deception. It has been an admonition to examine my life for compulsions, addictions or habits which are unhealthy or unproductive. Or it has been a reminder to adhere to the truth, no matter the cost.
When the card turned up today, I took a fresh look at Ben-Dov's notes.
Card 15. The Devil: A burst of creativity. Paradoxes and contradictions revealed and accepted. Irony and mocking of common conventions. Acting from desires, passions and impulses. Moving on from a past family trauma.

Inverse: Temptation, attraction to the dark and forbidden. Exploitation, egotism, domination. Compulsive physical or sexual self-gratification. Senseless behavior has its price. Difficulty in detaching oneself from a perverse relationship.

Message: express passion and desire.
So this is quite a different interpretation of the card.
Two other thoughts occurred. Firstly, I had not really thought about the character of the Devil as being nonbinary. This notion requires more study and thought, and perhaps I'll write more about it later.
Second, there is a Tibetan tradition that says "feed your demons." To our Western Judeo-Christian cultural ears, this sounds like encouragement to evil. But it is similar to what counselors in the West sometimes call "shadow work." We confront and make peace with the things that are most frightening to (and most hidden from) us.
This thought also deserves more consideration than I will give it at the moment.
In the meantime, I will try to be more comfortable with paradoxes and contradictions. 🙂