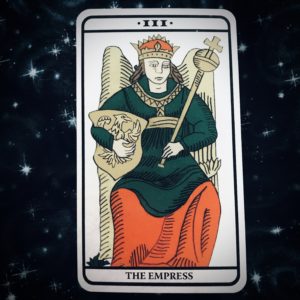 As I wrote earlier, The Empress is the card of creativity and nurturing.
This card was welcome on Easter Morning, representing, as it does, springtime renewal.
We couldn't have a more beautiful day here in the Chicago Southland. It's bright, clear and temperatures are already in the 60s (°F).
The Empress is an encouragement to get outside, and to get in better touch with the nurturing aspects of my nature.
Thankful to have all of my children under one roof for Easter this year. Despite the limitations of sheltering in place, we've managed to have a lovely celebration for my wife's favorite holiday.
Beatus Pascha!