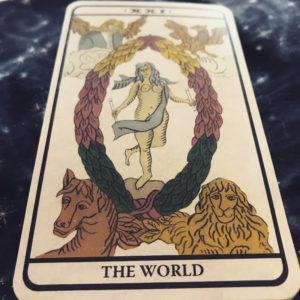 The World is the final card of the Major Arcana. It represents completion, wholeness and unity. The dancing figure is encircled by a wreath, surrounded by symbols of the Four Evangelists.
I think of this card as representing a world that is waiting to be born. She will emerge from the wreath only through our own contributions. We give ourselves to life, and to each other, in loving service, and the world will be laid at our feet.
Obviously the Hanged Man or the Tower would have been more appropriate cards for Good Friday. But on this bright, beautiful spring morning here in the Chicago Southland, the World prefigures the joy of the Easter Celebration.
I'll take it.