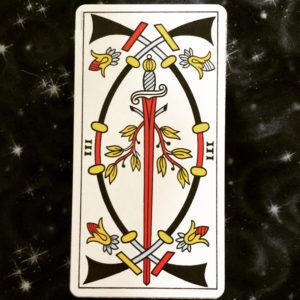 The dialectic came to mind when this card turned up this morning. The third sword triumphs over the first two.
I'm looking for synthesis or reconciliation amongst contradictions.
I think for me, at this time, it's about the contradictions inherent in leading folks to do good things without becoming a "leader."
Particularly in the realm of spiritual development, how does one keep things moving forward and at the same time not let one's ego get in the way?
Can leaderless organizations really work?
I think I'm about to push that envelope to the test. 🙂