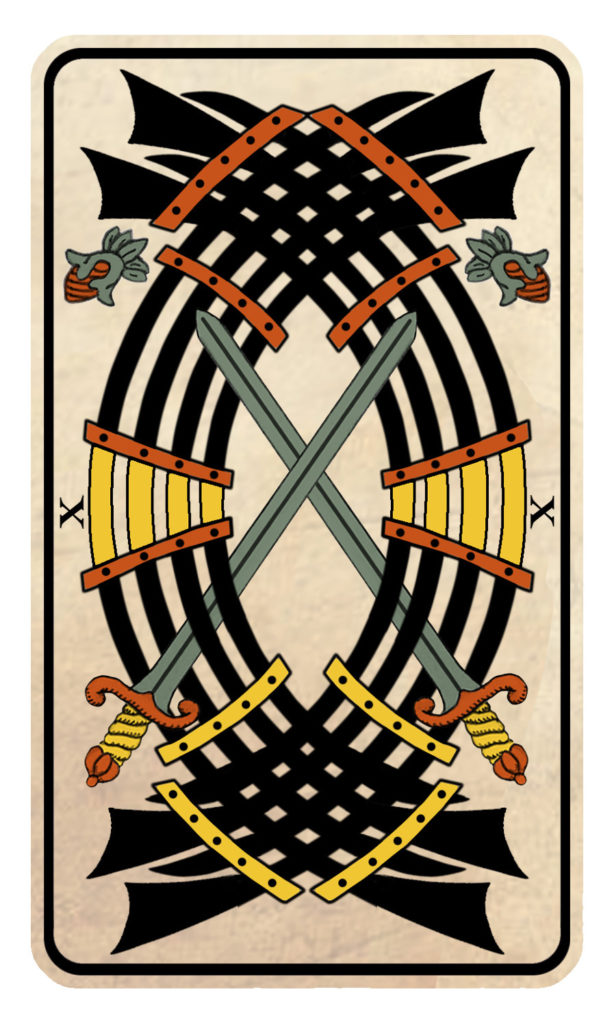 This is my current quick and dirty cheat sheet for the pip cards. Some of the keywords or phrases may make sense only to me. Would love to elaborate on any of these if you leave me a comment or email with questions.
Wands – Spirit, Passion
Ace of Wands – spark of the spirit or passion
Two of Wands – no more worlds to conquer, choices
Three of Wands – new venture, visioning, discovery
Four of Wands – celebration, marriage
Five of Wands – contention, contest, fake fighting
Six of Wands – victory
Seven of Wands – balance, whack a mole, besieged
Eight of Wands – flying true, out of my hands, help on the way
Nine of Wands – perseverance, beleaguered, is it over yet?
Ten of Wands – lazy man's load, overburdened, gather in the harvest
Swords – Mind, Reason
Ace of Swords – spark of imagination, new idea
Two of Swords – protection, guarding, mastery
Three of Swords – card of sorrows, heart opening, primordial wound
Four of Swords – rest, repose
Five of Swords – winning ugly, adversity, gloating
Six of Swords – departure, leaving for good, heading in to calmer waters
Seven of Swords – pulling a fast one, deception
Eight of Swords – initiation, tests and trials, ignorance or failure to see
Nine of Swords – nightmares, anxiety, preoccupation of the mind
Ten of Swords – it's so over
Cups – Heart, Emotion
Ace of Cups – keep an open heart, new stirring of emotion
Two of Cups – always follow your heart
Three of Cups – community, sharing, creative collaboration
Four of Cups – ennui, resisting temptation, don't upset the status quo
Five of Cups – transitions, crying over spilled milk, depression
Six of Cups – happy memories, nostalgia, revisiting the past
Seven of Cups – distraction, temptations, too many choices, misdirection or illusion
Eight of Cups – moving on, recovery
Nine of Cups – sitting in the catbird seat
Ten of Cups – and they all lived happily ever after
Pentacles – Material, Financial
Ace of Pentacles – the seed of manifestation
Two of Pentacles – the choice is in your hands, practice makes perfect
Three of Pentacles – conspiracy, teamwork
Four of Pentacles – hang on to what you've got
Five of Pentacles – destitution and light
Six of Pentacles – generosity, haves and have nots
Seven of Pentacles – pause from labors, taking stock, reflection or maybe worry
Eight of Pentacles – woodshedding, hone your craft, do good work
Nine of Pentacles – poor little rich girl, lonely at the top
Ten of Pentacles – legacy
The Ten of Swords depicted above is from the Tarot of Marseille by Pitisci ©2019.