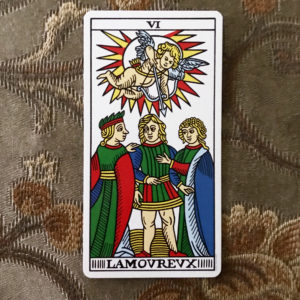 Looking at The Lover card this morning during my daily draw, these words from the Book of Genesis came to mind. "Therefore shall a man leave his father and his mother, and shall cleave unto his wife: and they shall be one flesh."
The lover is making a choice. He is turning away from the older woman, who may be offering a blessing, but who also seems to be trying to hang on to him. He turns toward the younger woman, who reaches as if to embrace him.
What struck me next was the figure of Cupid drawing the bow. I wrote in my journal "When we make the right choice, it feels as if it has been ordained by heaven."
Then, in my research on the card, I ran across this from Yoav Ben-Dov. "The inclinations of the heart correspond to the will of heaven."
Our choices make our lives. Follow your heart.