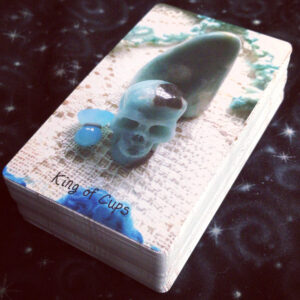 The paradox of the King of Cups is that of soft, yielding power.
Cups are the suit of the element of water, the only "element" in the deck that changes states. It can take on the form of a vessel, or it can almost seem to be formless, at least in the short runs, traveling its course through the vales on a journey to the sea.
Of course, over time, it is one of the most powerful elemental forces, carving through earth and rock as it makes its way.
This King is one who has mastered himself. He is deeply in touch with his own feelings, and profoundly empathetic with others, and yet is able to see the big picture beyond the emotions and changes of the moment.
Oh, to be so.