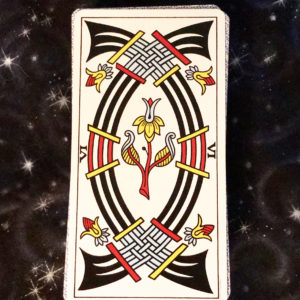 The Six of Swords is the card of departure, transition and adaptation.
In Waite's deck, Pixie has drawn a woman and child huddling together in a boat, their backs to us. The guide is moving them from turbulent waters toward land in the distance. Six swords, representing sharpness of intellect, stand in the boat. The day looks dreary, and the guide's posture looks tenuous to me, as if he could easily slip off except for his experience and skill. The swords apparently do not pierce the hull, but that seems a wonder.
They seem to be nearing the end of their journey. The craft is small and the water is wide. They do not look back, but there is certainly a sense of having left something dear behind. Yet, the turbulent waters are behind them, and the prospect of a better life ahead.
In the Marseille deck, the swords seem more festive than ominous, to me, with the flower in the center of the card dominating the image. It appears to be receiving protection and nourishment from the swords which encircle it.
I am a different person today than I was yesterday, and a much different person than I was a year ago. I have set my feet on an entirely new path. It's taken quite awhile for me to let go of some old preoccupations and habits of attention, but today, I have finally let go of the most burdensome baggage.
Life, in the words of Sasha Graham, is "a remarkable journey with those closest to you."
There is no turning back now.