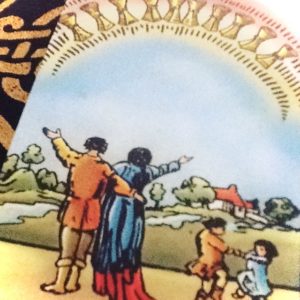 The Ten of Cups is known as the card of "happily ever after." Descriptions of its meaning usually include words like fulfillment, blessings, harmony, bliss, love and the like.
The RSW version of this card shows a couple on a hill, their children dancing nearby, their arms stretched out to the sky, in which appears a beautiful rainbow containing the ten cups.
When it came time to choose a featured image for the main page of this website, it was the first thing that came to mind. It seems to me that it depicts the notion of "bright blessings" so perfectly.
When I look at the traditional Tarot de Marseilles version of this card, it seems a little less idyllic. There are nine of the cups lined up neatly in three rows, and the final cup on its side above them. It reminds me of what one might see if they were cleaning up after a party, with that last cup no longer upright. 🙂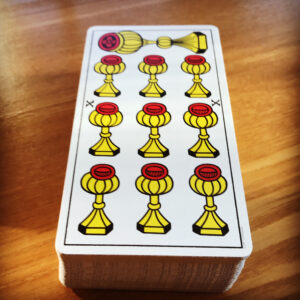 So, when I drew the card this morning, I thought "the party's over."
Here's how Ben-Dov describes the card, with the symbolism of that tenth cup at the top.
Leadership. A person with special qualities receives appreciation and a high status. Responsibility for other people. Maintaining one's superior position over others.
Tens can represent finality, or the completion of a cycle. Cups, as we know, is the suit of the heart and of emotions. So we could also think of this card as symbolic of emotional maturity, or an exuberant expression of love or other deeply felt emotion.
The message that I got from the card this morning, along with "the party's over" was "lead your life."
Life leadership is the path to happily ever after.