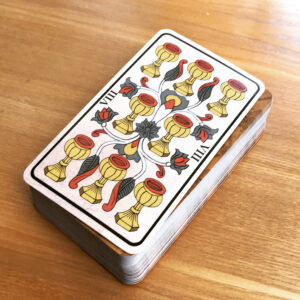 Ben-Dov has the Eight of Cups as representing relationships with a large group of people – a feast or family gathering. It turned up this morning apropos of Fathers Day.
It's a great blessing to have all of my children under our roof this year, and to have another year to spend the day with Claudia's father.
I also think of this card as representing recovery. On the Rider Waite Smith depiction, it seems almost as if the figure on the card is emerging from the cups. A little more than a year ago, when I had been sober for three weeks, the card turned up and I took it as an affirmation. Here are some of my notes from that day.
The card depicts a man in a red cloak with his back toward eight neatly stacked golden cups. He has crossed the water (which shows some turbulence) and is heading up the rocky shore. We cannot see where he may be headed, but jagged hills mark the shore at a distance. The moon is eclipsing the sun, giving the appearance of evening or night time during the day. The man holds a hermit's staff in his right hand. Moving On – Abandonment – Unsettled Unconscious – Spiritual Journey
This morning, the AA motto "One Day At A Time" came to mind, and then "No Day But Today" from Jonathan Larson's lyrics from Rent.