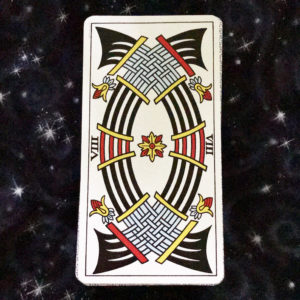 When the Eight of Swords turned up this morning, the phrase that came to my mind was "keep faithful watch." Images of defense, security and protection came to mind.
It follows The Pope from yesterday, a card about traditions and mentorship, and this Eight is sometimes thought of as the card of initiation by trial (as depicted in Waite's deck).
It continues the theme of the Four of Coins from two days ago, a card concerned with guardianship, stability and security.
This is how Ben-Dov described the Eight of Swords:
Defenses. Putting up shields and blocks. Psychological defense mechanisms. A need to be in total control. A well-guarded treasure. Entering another's domain with permission.
Here is a question to ponder. Whence cometh our security?