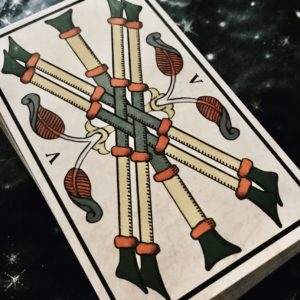 The suit of Wands has been predominant this week, beginning with the Ten and Six cards on Sunday and Monday, and then the Page two days later. This reflects a preoccupation with spirit, and creative passions.
Today's draw is the second Five of the week, after the Five of Swords on Tuesday, indicating a time of changes.
The Waite Swords card depicts victor and vanquished, a situation where the winds of change create winners and losers. In contrast, the Waite version of this Wands card shows a group of young people clashing with their wands. It's hard to say for sure what their intent may be, but it appears to be a disorganized mess more than an actual fight. We get the sense that there's no true harm intended, and it's possible that it's not a competition at all, but that they're working together on something and the energy is just all over the place. It reminds me of something along the lines of "The Three Stooges Build a House" but with five stooges.
The background for today's draw, of course, is the global virus pandemic, which has already brought no small measure of misery and death, and which now has fear and chaos sweeping across the globe. Many people in my country, the United States, have managed to insulate ourselves from the drama and tragedy that has gripped the rest of the world in recent decades. This virus feels very much the chickens of the American Empire coming home to roost.
In times of change and challenge, I would rather entrust my well being to the first awkward, disorganized and messy attempts at cooperation than to the vagaries of cut throat competition. I'll take Five of Wands over Five of Swords this week.
Let's face the changes together, shall we?