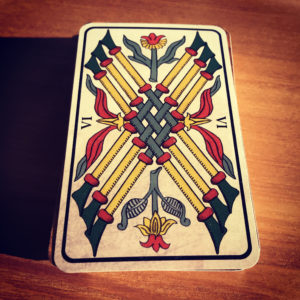 The Six of Wands last turned up four weeks ago, as I had just attended Vincent Pitisci's first online Tarot gathering, and was anticipating the first evening of a course on Bhakti with Krishna Das. Yesterday was Pitisci's second gathering, and tonight is the fifth class in KD's series.
For me, this card comes as a reminder to keep first things first, to focus my energy on the projects and activities that are most important to me, to enjoy collaboration with others, and to celebrate every achievement along the way.
I've been really digging in to devotional life this week, spending time every morning with the Divine Office and with Deva Das' daily Kirtan. Thankful for the privilege.