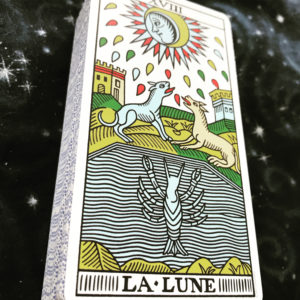 This card has turned up repeatedly over the past three weeks. I'm beginning to think that there is something lurking under the surface that I am missing, or of which I am yet unaware.
Here are my earlier notes.
From March 26th: Daily Draw | The Moon
From April 6th: Daily Draw | The Moon 040620
This card also came up yesterday in a three-card spread, in the position relating to timing, which I interpreted as meaning that next month (May's full moon is on the 7th) would be a favorable time to proceed.
I've used two separate decks during this time period, and am meticulous about shuffling the cards, and have inspected them for any damage that would cause this card to recur. I'm convinced that the reappearances were overdetermined only by "chance."
When it comes to the cards, as Yoav Ben-Dov taught, everything is a sign.
I'll be attentive for something to bubble up. 🙂