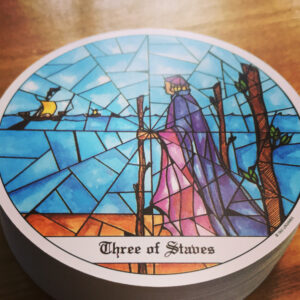 Mrs. Noe gave me this beautiful Tarot of the Cloisters deck for my birthday yesterday. It's a unique round deck, inspired by cathedral windows from the 13th Century.
The Three of Staves turned up this morning. The deck's little white book describes this card thus: "The arrival of good news. The ability to express oneself."
Upon turning the card up this morning, the lyrics of the old Christmas Carol "I Saw Three Ships Come Sailing In" came to mind.
I wrote pretty extensively about the Three of Wands about a month ago. I was imagining what it would feel like to create a better world.
Perhaps good news truly is about to arrive.